Early Years
Albert Lacombe was born in 1827, at St. Sulpice Parish near Montreal, the grandson of a woman born to a French-Canadian mother and Ojibway father. He was ordained in 1849 and traveled by train, steamboat, stage, oxcart, and foot to his first mission in St. Boniface, Manitoba.
In 1856, Father Albert made his vows and became a member of the Oblate Congregation. Fluent in Cree and Blackfoot, and conversant in other native languages, Father Lacombe was an effective peacemaker between the warring First Nations. In 1859, he built St. Joachim Chapel, the first church building in Edmonton. In 1861 he founded the St. Albert mission. But his preference was to travel to native settlements. "Alexis, my excellent Blackfoot cook, my horses, my car, and my portable altar, my catechisms, some objects of piety—these made up my church and my rectory".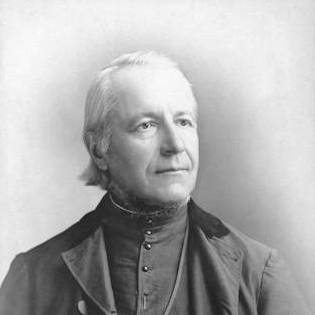 CP Rail
Nevertheless, in 1871 he was required to return east to raise funds for his schools. He was next asked to serve as pastor at St. Mary's in Winnipeg during the unrest of the Riel Rebellion. In 1883, when the Canadian Pacific Railway came into conflict with the Blackfoot, who threatened to block the route across the reserve, Father Lacombe successfully negotiated on behalf of the railway with Chief Crowfoot, enabling the railway to be built.
Friend of the First Nations
Lobbying on behalf of First Nations in negotiations with the CPR, he also opposed assimilation and advocated separate schools for native children–an idea that proved to be far from the beneficial solution he intended. After the Riel Rebellion was quashed, he campaigned with others to have First Nations Chiefs released from prison.
Diplomat & Final Project
By the turn of the century, Father Lacombe was active as a diplomat and fundraiser. On a fundraising trip to Europe he was granted an audience with the Pope and Emperor Franz Joseph. His final project, undertaken at the age of 82, was to build Lacombe Home for the poor to serve the West's most destitute 'red and white'. Patrick Burns donated the land, and funds were raised for the building. Lacombe lived there for his remaining years.
Midnapore
When he died in 1916, his body was transported by ceremonial train to the church at St. Albert. In further accordance with his request, his heart remained in Midnapore. It is buried in the cemetery on the grounds of Father Lacombe Care Centre.